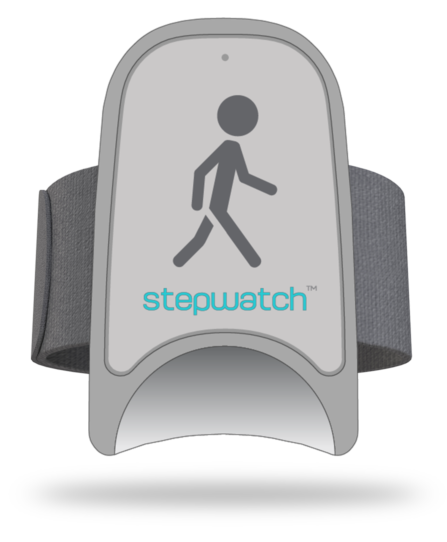 Through our mission to improve healthcare outcomes via precise, evidence-based decision making – we have combined the highly sensitive instrumentation of the StepWatch™ with our own proprietary, algorithmic data analysis software. This provides the objective and accurate data needed to make informed decisions to meet research or clinical needs.
STEPWATCH
The Modus StepWatch™ is steeped in scientific history and its accuracy has been validated in a broad range of research activities where measurable, reliable data on ambulation are required. The system is currently being used by many of the top academic medical centers, universities and health systems, clinical research organizations, and pharmaceutical companies around the world.
SOFTWARE
Modus Health has three unique software types, each specific to the needs of academic institutions, clinical trials, and hospitals. Academic institutions most commonly choose the Research app (RE), given its flexibility and one-time fee. Pharmaceutical companies use our Clinical Research Trials app (CR), designed to be easy-to-use by site coordinators and offering optional services to fit the needs of a given client. Hospitals rely on the Clinical Care app (CC), as it was designed for clinicians and patients to facilitate optimal patient mobility.
FOR CLINICAL CARE
StepWatch™ has already been proven as a tool to monitor mobility progress in patients, particularly during hospitalization, physical therapy, and pre/post surgeries or treatments. Our Clinical Care (CC) app has been developed to empower patients to participant in their recovery as well as improve clinical staffing efficiencies around patient mobilization. Our CC software has evidence supporting an average reduction in length of hospital stay and risk of readmission when used to facilitate healthy walking. Our CC software is connectable to electronic medical records including Cerner and Epic.
Please email [email protected] if your hospital or clinic is interested purchasing this software.
FOR CLINICAL TRIALS
The Clinical Research (CR) mobile app for StepWatch 4™ offers enhanced functionality and user experience for clinical trials. Its accuracy and reliability mean needing the fewest research participants to see significant and clinically relevant changes in participant outcomes. Its mobile connectivity and secure cloud system provide maximum visibility during the trial. Optional iPhones with our CR Companion app act as mobile data hubs, automatically transmitting StepWatch™ data to the cloud daily. The CR Cloud processes and interprets daily participant data and provides notifications about upload status, compliance, battery level, and activity, emailed directly to those with oversight roles. The result is mobility data you can trust.
FOR RESEARCH
The Research (RE) mobile app for StepWatch4™ provides researchers with the same excellence in gait monitoring while providing higher resolution data, greater ease-of-use, and a more affordable price-point. With over 500 peer-reviewed publications, StepWatch™ has proven to be the most accurate and reliable monitor for analyzing gait, especially in patient populations with slow, shuffling, and/or irregular gait. The RE iPad app offers researchers an all-in-one software tool capable of programming StepWatch™, downloading data and even displaying metrics and graphs for locally-stored sessions. For more information on the use of StepWatch™ in research markets, visit our publications section.
STEPWATCH 4™
The StepWatch 4™ is the latest innovation on the world class technology of the Modus StepWatch 3™ activity monitoring system. Bringing the fourth generation of the StepWatch™ brand to life, StepWatch 4 maintains the superb accuracy of StepWatch 3™ while providing additional features and software choices that meet the specific needs of our clients. StepWatch 4™ has been proven as an effective tool especially in patient populations with slow, shuffling, and/or irregular gait.
LEGACY PRODUCTS
StepWatch 3™